Although this week's topic of Bio art was and is still somewhat distant to me, the modern approach to cultivating any form of nature into something so creatively intriguing was indeed surprising and interesting. As Professor Vesna mentions in her lecture, Technology has relations to this week's topic as w
ell as it is generally expanding into bodies and environments, for science and for art.
Looking at Eduardo Kac's "Transgenic Art" where he experimented with rabbits to make that unnaturally translucent in the dark, there seemed to be many contrasting approaches to the use of Animal experimentation not only within the field of his scientific input, but more because he is using it for art.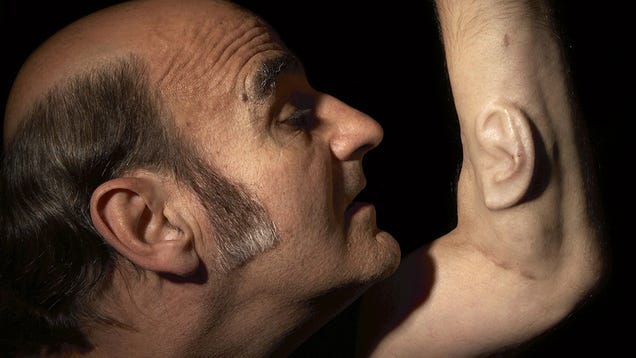 "Ear on Arm" by photographer N. Sellars
So what makes a legitimate standard in judging one's artwork, or experimentation, unethical or inappropriate? Related thereto, in Ellen K. Levy's article; Philosopher Haraway questions how psychic and commercial investments are to be made when lines among human, machine, and organic nature are highly permeable and eminently revisable.
Personally, after much research I have come to add a statement that although animal experimentation is generally looked down upon in its "unethicality" of abusing a living object, the practice is acceptable when it has a tangible benefit to the lives of the human beings. According to, a experimentation like that of Eduardo Kac with the GFP Bunny where it seems to have no medical or physical benefit to human beings will be prone to much opposition. Similarly, Kathy High recognizes that although she is not against animal scientific research, she believes only certain kinds of research should be conducted.
At the end, as Chris Kelty says in his article- Creativity breeds creativity, and innovation breeds innovation. Therefore which method the innovation is conducted should not be focused on, as there seems to be no linear form of accumulation as to what standard one's work is determined as supposedly an "outlaw".
I come to understand that the ambiguity remains in determining one experiment's righteousness over another when using animal experimentation, as the same argument can cause hindrance to an experiment actually crucial for a discovery for science. So should we set down the rules to determine the 'rights' from 'wrongs' in Bio-art and their experimentation? I can only assume that Bio art- because it is so closely linked to
biological and medical sciences- we can only respect the ambiguity and strive upon further innovations to expand.
--------------------------------------------------------------------------------------------------------------
High, Kathy. "The Politics of Empathy." Embracing Animal. N.p., n.d. Web. 07 May 2016.
Kac, Eduardo. "GFP BUNNY." GFP BUNNY. Kac Web, n.d. Web. 06 May 2016.
Kelty, Chris. "Meanings of Participation: Outlaw Biology?" Journal of Science Communication (2010): n. pag. Web. 07 May 2016.
Levy, Ellen K. "Defining Life: Artists Challenge Conventional Classifications." (n.d.): n. pag. Web. 08 May 2016.
Marcredi, Janique. Image. "Rencontre(s) Avec Edouardo Kac." NUMEDIA-ART. NUMEDIA-ART, 2007. Web. 8 May 2016.
Person, and George Dvorsky. Image. "7 Bio-Artists Who Are Transforming the Fabric of Life Itself." Io9. N.p., 24 June 2013. Web. 09 May 2016.
Strijip, Mu. Image. "Body of Matter: Body Based Bio Art and Design." Bio Art & Design Award. N.p., n.d. Web. 08 May 2016.
"Summer Residency in Bio Art at SVA | Art & Education." . Image. Art & Education. N.p., n.d. Web. 09 May 2016
Vesna, Victoria. "Biotech + Art Lectures." UC Online. Professor Vesna, n.d. Web. 08 May 2016.